This is our third blog designed to help communities understand some of the resources available to help support rapid re-housing (RRH). Steve Berg of the Alliance talked about where communities could access new resources for rapid re-housing. We also blogged about steps communities can take to develop flexible private dollars to support RRH by engaging philanthropic organizations.
The Community Services Block Grant (CSBG) program funds a network of local anti-poverty agencies. The CSBG is an often-overlooked resource that can support RRH activities.
What is the Community Services Block Grant?
The U.S. Department of Health and Human Services manages the CSBG program and individual states and territories administer it. The program is broadly available — 99 percent of the nation's counties receiving CSBG funding! The grants fund services that address the needs of low-income people and communities.
CSBG funds more than 1,000 Community Action Partnerships (CAP). CAP agencies facilitate a broad range of anti-poverty programs, working to promote self-sufficiency, improve living conditions, revitalize low-income communities, and develop support systems.
How can grantees use CSBG funds?
CSBG funds can support all three core components of rapid re-housing: finding landlords, helping pay and connecting to services.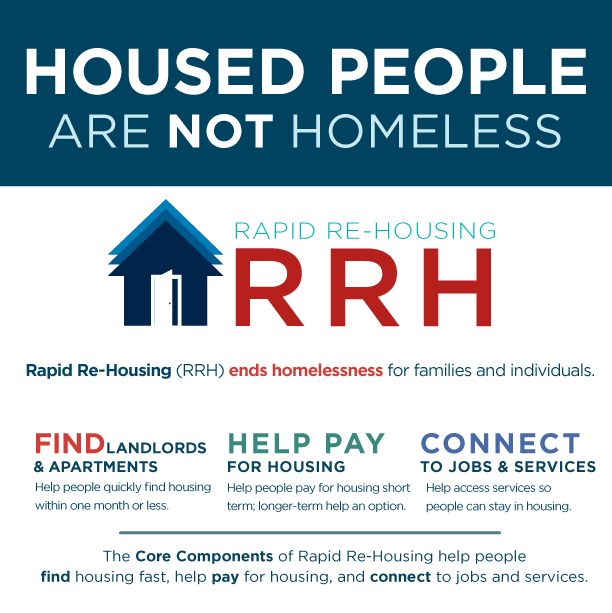 Along with the core components, CAP agencies use CSBG funds for eviction prevention assistance, child care/child development programs, utility assistance, and employment support, all services that can benefit rapid re-housing clients.
Local CAP boards can support rapid re-housing either by providing CSBG funds directly or through a contract with a service provider.
Here is one local community that used CSBG funds to support RRH.
Barbourville, KY

The Kansas City Continuum of Care (KCEOC) Community Action Partnership blends CSBG funds with U.S. Department of Housing and Urban Development Emergency Solutions Grants (ESG) Program funds to provide rapid re-housing. CSBG funds help pay for the administrative costs and case management services of the rapid re-housing program, allowing KCEOC to devote the majority of their ESG funds to rental assistance.
What can you do?
Partner with local CAP agencies and their boards. CAP agencies are required to demonstrate progress in alleviating poverty, so rapid re-housing providers can show how the strategy improves a variety of household outcomes.
Influence the CSBG plan in your state. Each state must submit a state plan to HHS outlining the expected uses of CSBG funds over a two-year period. Public hearings are required prior to plan submission, and advocates can urge the state to designate rapid re-housing as a priority.
Encourage CAP agencies and boards to become active in the local Continuum of Care. CAP leadership and Continuum of Care leadership can work jointly to alleviate poverty in the community through rapid re-housing.
How are you using CSBG funds to support RRH? Let us know!