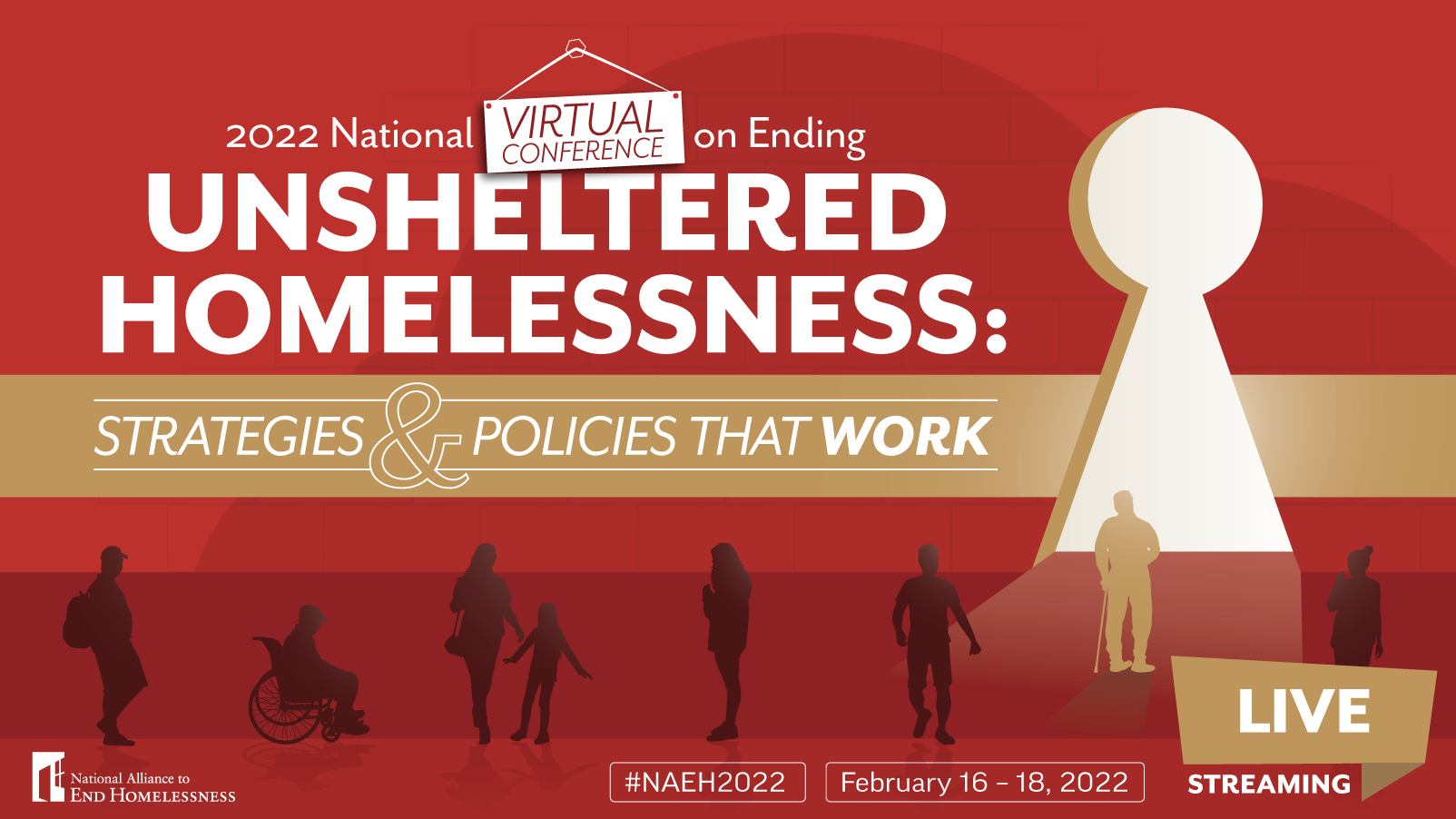 Space for the 2022 National Conference on
Ending Unsheltered Homelessness: Strategies & Policies That Work
has now been filled. Please sign up to
join the Waitlist
and we will reach out to you if any additional registration opportunities open up.
What Does Registration Include?
Registration includes access to all sessions, the Meet 'n' Mingle on Wednesday, February 16, 2022, and continental breakfast and lunch on Thursday and Friday, February 17 and 18, 2022. Conference registration does NOT include hotel or travel costs. Please make sure to register for the conference BEFORE booking the hotel and airfare.
Please review the cancellation policy prior to registering for the conference. Details below.
What Are the Registration Rates?
Click the boxes below to learn more about each registration option.
Standard Rate: $675
Closes January 12, 2022, at 3:00 p.m. ET
In order to receive this rate, you must register online by Wednesday, January 12, 2022, at 3 p.m. ET or mail your registration form postmarked by Wednesday, January 12, 2022.
Consumer Rate: $115
We are pleased to offer a special consumer rate for individuals who are currently or have experienced homelessness within the last five years.
Late Registration: $750
Opens Wednesday, January 12, 2022, at 3:05 p.m. ET
Closes Wednesday, January 26, 2022 at 3:00 p.m. ET
Onsite Registration: $825
Onsite registration can be done at the conference, February 16 — 18, 2022, subject to availability.
The health and safety of conference participants is our main priority. Following recent best practices in the event industry to minimize risk and maximize participant well-being, all participants will be required to provide proof of full COVID-19 vaccination status prior to admittance to the conference venue. In cases for those who have a medical or sincerely held religious exemption; proof of a negative COVID-19 PCR or antigen test (no more than two days prior to the start of the conference) For those participants designated as such:
Health Circumstance – History of previous allergic reaction to indicate an immediate hypersensitivity reaction to a component of the vaccine; health condition or medical circumstances such that immunization is not considered safe; or any other health condition or medical circumstance where receiving the COVID-19 vaccine is contraindicated; or

Sincerely Held Religious Belief: Religious belief and/or practice which is (a) sincerely held; and (b) which prohibits receiving immunizations.
How Can I Pay?
When registering for the conference you can pay online with a credit card (Visa, MasterCard, and American Express are accepted). If you need to pay by purchase order, please contact us directly at conference@naeh.org or 202-942-8257.
Pending availability, conference registration will CLOSE on Wednesday, January 26, 2022, at 3 p.m. ET.
How Can I Cancel My Registration?
Cancellation requests made by Monday, January 10, 2022, will incur a $50 cancellation fee. Requests made between Tuesday, January 11 and Monday, January 31, 2022, will incur a $150 cancellation fee. Cancellations made after Monday, January 31, 2022, will receive no refund.
To cancel a registration, submit a request below. Refunds for paid registrations are subject to approval and a cancellation fee. You will receive an email when your refund check has been mailed.
Registration Cancellation - Form
Need to Transfer Your Registration?
No longer able to attend the conference and want to transfer your registration? Please complete the form below by Monday, January 31, 2022.
After Monday, January 31, 2022, all transfers must be completed on-site.
Transfer Your Registration - Form