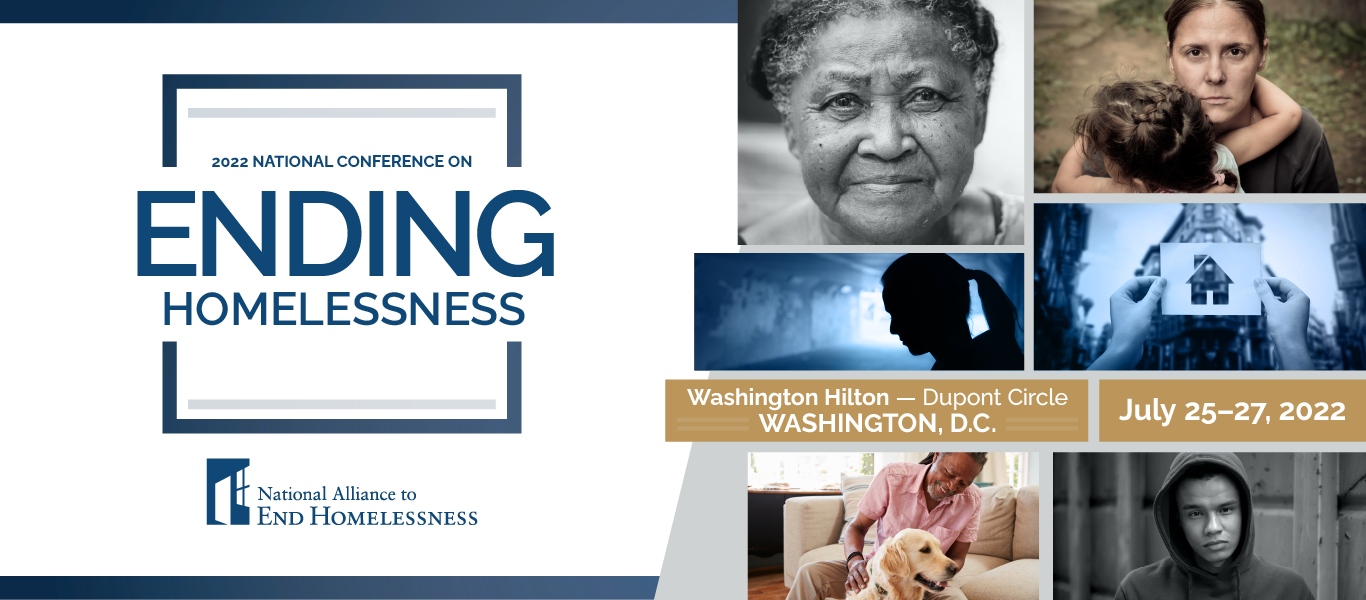 Sunday July 24, 2022
4:00 – 6:00 p.m. ET • Name Badge Pick-up
Monday, July 25, 2022
8:00 a.m. – 5:00 p.m. ET • Name Badge Pick-up & Registration
9:00 a.m. – 12:00 p.m. ET • Pre-Conference Workshops
Making Rapid Re-Housing Truly Rapid
Are you still trying to implement an effective Rapid Re-Housing model? This interactive session will offer training and tools designed to provide practitioners and community leaders with skills and strategies to successfully understand and implement Rapid Re-Housing as part of a larger, system-wide approach to ending homelessness. This will include an introduction to a specially designed iteration of the evidence-based Critical Time Intervention developed to work with Rapid Re-Housing. Participants will have the opportunity to develop strategies to implement the core components of Rapid Re-Housing that they can effectively implement when they return to their communities.
Diversion: The Who, The What, The How
Diversion, when done safely and appropriately, reduces inflow, stops people from experiencing homelessness, and helps conserve resources for people who have no housing alternatives. In this interactive preconference session, we will cover the core components of diversion; key philosophical, operational, and practical shifts needed to effectively implement diversion; and hear from communities who have effectively implemented diversion and how it impacted their homeless response system.
The Scoop on Effective Low Barrier, Housing-Focused Shelter
Shelter outcomes have a direct impact on system performance measures. That makes effective emergency shelter practice critical to an effective crisis response system. Join this pre-con to review the basics of effective shelter, including becoming low-barrier and housing-focused, and the importance of shelters working together across the system. Learn ways that shelter providers can shift their practices, and how system leaders can support shelters in continuous improvement by setting and measuring key outcomes.
Understanding the Causes and Nature of Homelessness
This session will provide a foundational understanding the causes and nature of homelessness. This session's goal is to provide 101-level resources and information to those who are new to the field.
Preparing for Capitol Hill Day (Starts at 10:00 a.m.)
Capitol Hill Day will not occur as part of the 2022 National Conference on Ending Homelessness, but will be held instead as a virtual event on Wednesday, September 14. In preparation for Capitol Hill Day, please join Alliance staff for a strategy meeting and advocacy training with State Coordinators, lived experience advocates, and other conference participants.
Reimagining a Racially Equitable and Just Coordinated Entry System
Many communities have begun to challenge traditional assessment and prioritization tools that have been proven to be inequitable. Instead, they are creating processes that speak to the specific experiences of those disproportionately experiencing homelessness in their communities. That work must continue, and we must retool our coordinated entry systems to become racially equitable and just: a Coordinated Entry System where we are no longer satisfied with having a shared anti-racist vocabulary, but strive to have shared anti-racist practices. In such a system, the people and communities that have experienced housing and resource discrimination will be able to make fair decisions about where resources are allocated, what policies are developed and approved, and how services and housing are provided. This lab is an opportunity for communities to share with and learn from their peers, people who have faced homelessness, TA providers, federal government partners, healthcare and housing partners, and funders to reimagine and rebuild Coordinated Entry System with more equitable and just processes, practices, policies and cultures.
9:00 a.m. – 10:30 p.m. ET • Listening Session: Families and Pandemic Relief
Families were the focus of multiple pandemic relief efforts, including the Advance Child Tax Credit and rent subsidies. Do you have a story to share about how these investments benefited the families you serve? As these resources fade, are you seeing families suffer setbacks (or are you concerned that they may do so in the future)? Let's talk.
By invitation – please contact jpagaduan@naeh.org for more information on participating in this session.
10:45 a.m. – 12:00 p.m. ET • Listening Session: HUD Reporting - What New Data and Other Changes Would Be Helpful?
HUD's AHAR is central to understanding homelessness, including population totals and demographic information. In recent years, the field has been vastly growing its efforts around racial equity and older adult homelessness. Should the AHAR change in ways that reflect (and better support) these shifts? The Alliance is working with partners to develop some recommendations. Attendees at this session will offer feedback and any new ideas they want to share.
By invitation – please contact jpagaduan@naeh.org for more information on participating in this session.
12:00 – 1:00 p.m. ET • Lunch on Own
1:00 – 1:45 p.m. ET • Opening Plenary with Ann Oliva, CEO, National Alliance to End Homelessness
2:00 – 3:15 p.m. ET • BREAKOUTS I
1.01 Housing First: From Philosophy to Practice
Housing First is a proven strategy for ending people's homelessness. Learn how this evidence-based practice is being operationalized to address homelessness in communities. The session will cover the core principles of Housing First and how to implement key practices that ensure the needs of individuals experiencing homelessness are met.
1.02 Understanding the History of Racism, How It's Tied to Homelessness, and What We Can Do About It
Presenters in this session will give an in-depth analysis of current and historical racism in the United States. Attendees will learn about structural barriers, how they persist today, and their impact on disparities in homelessness. Attendees will also learn about practical tools and practices they can utilize to promote racial equity in their homelessness systems.
1.03 Emergency Housing Vouchers: Lessons Learned and Implications for the Future
In this session you will learn best practices from communities that successfully implemented the EHV program, including building strong partnerships between CoCs and PHAs and using the vouchers strategically to house those most in need. Based on a research study on the implementation and utilization of the EHVs (conducted by the Alliance's Homelessness Research Institute) you will gain an understanding of what elements of the EHV program can and should be continued to improve the impact of the regular Housing Choice Voucher Program (Section 8).
1.04 What Lessons Have Homelessness Systems Learned from the Pandemic?
What lessons have homelessness systems learned as they continue to navigate through the impact of COVID-19? And how will this impact future responses to public health crises? This session will explore how communities are evaluating their homeless response systems and review strategies they are implementing to increase health safety in outreach and congregate shelter. The discussion will include how Continuums of Care (CoCs) are using a "whole community" approach, involving partners in developing their response planning.
1.05 Ending Family Homelessness: Progress Made or Lost Ground?
The COVID-19 pandemic placed enormous strains on families experiencing (or at risk of) homelessness and the programs that serve them. The federal response also provided substantial new tools and resources to protect families from homelessness, improve shelter responses, and ramp-up housing assistance. What did localities try? What did we learn? Explore lessons that may be drawn from localities that saw significant declines in family homelessness, and cautionary lessons from areas where progress was reversed.
1.06 Data Driven System Transformation
Quality data tells a story and helps create a roadmap to an efficient and effective system. What story does your data tell? Learn how communities are using system- and program-level performance data to measure progress, achieve benchmarks and determine where to invest precious funding resources.
1.07 Elevate, Incorporate, and Compensate: A Guide to Including People with Lived Experience
It is time that we listen to the experts when working to end homelessness: those who have been through the systems and have seen firsthand what works and what does not. In this session, attendees will hear how to incorporate people with lived experience authentically – not only with focus groups, but in key decision-making positions to ensure homeless systems are equitable and efficient.
1.08 Catching Up with Congress
How much new federal funding can local homelessness systems expect in Fiscal Year 2023? What about new Tenant-Based Rental Assistance? Does Congress think local homelessness systems used COVID relief funds effectively and how will that impact future funding decisions? What does Congress really think of Housing First? And what will a potential change in party control in Congress mean for homeless policy and funding? Hear from top Hill staffers about the most important issues in affordable housing and homelessness.
3:30 p.m. – 4:45 p.m. ET • BREAKOUTS II
2.01 Dismantling Barriers to Emergency Shelter
Explore how communities are assessing their shelters in order to lower barriers and ensure that people who need shelter will be able to access it. Attendees will learn how shelters have used feedback from people with lived expertise of homelessness to modify entry protocols and be more efficient, welcoming and supportive of consumers entering shelter.
2.02 Reconfiguring Coordinated Entry to Advance Racial Equity: Communities Are Doing the Work!
Leaders across the field have raised concerns that coordinated entry tools and processes can perpetuate racial inequity in programs and systems. Many communities are now conducting extensive evaluations of their coordinated entry systems (CES) and making changes to reach more equitable outcomes. This session will highlight the progress of two communities that have revamped their CES to promote racial equity.
2.03 Tenant-Based Housing Vouchers and Their Impact on Ending Homelessness: Lessons Learned in Los Angeles
Recently, the Conrad N. Hilton Foundation commissioned Abt Associates to study the success of people experiencing homelessness in using Tenant Based Housing Vouchers in Los Angeles and the findings were eye opening with significant policy, programmatic design, and partnership implications. This session will provide an overview of the study, steps taken by the public housing authorities and homeless service providers while working with people experiencing homelessness, and the effects of those actions. The session will also focus on the implications for the study and on recommendations for communities as they continue to strategize on ways to end homelessness.
2.04 Harm Reduction: Meeting People Where They Are
Harm reduction is a set of practical strategies and ideas aimed at reducing negative consequences associated with substance use. Harm reduction is also a critical part of successful Housing First practices for people with substance use disorders. This session will provide an overview of a successful harm reduction model for people experiencing homelessness, outline strategies to implement harm reduction practice, and illustrate how to engage community buy-in across the homeless response system.
2.05 Creating Safe Spaces: Ensuring that LGBTQIA+ Clients' Needs Are Prioritized During their Engagement with the Homelessness Response System
A disproportionate number of lesbian, gay, bisexual, transgender, queer/questioning, intersex, and asexual individuals – especially BIPOC – experience homelessness. This workshop will explore how communities can respond to the unique needs of the LGBTQIA+ community to ensure their voices are included in the planning process and that safe interventions are identified. Learn about effective strategies for outreach, engagement, and crisis and interim housing to meet this community's unique needs.
2.06 Introducing Stella M for System Modeling
Many communities have been using HUD's Stella P tool to understand their systems' performance. Now they will be able to use Stella M to inform their system modeling efforts. HUD and Abt Associates are releasing this new tool that will aid users in identifying resources and strategies to help communities reduce and end homelessness. In this session, attendees will learn about features of Stella M and how they can leverage this model to evaluate system performance.
2.07 Building Partnerships Between Healthcare and Homelessness Systems
Local homelessness systems will not end homelessness on their own—they need partners, particularly in the healthcare sector. Learn about cost-effective ways to integrate healthcare and homeless services. Discover how to navigate healthcare bureaucracies and take advantage of Medicaid's considerable resources.
2.08 Winning Resources and Policy Changes on the Local Level
Through ballot measures and advocacy at state capitols and city halls, communities are taking action to reduce homelessness. This session covers the fundamentals of effective advocacy, highlighting grassroots campaigns that have won billions in new resources and made meaningful change on the state and local levels.
4:45 – 5:30 p.m. ET • Stella M Demos
5:00 – 6:30 p.m. ET • Meet & Mingle Reception
Join Alliance staff and conference attendees at this informal reception event.
Tuesday, July 26, 2022
7:45 – 9:00 a.m. ET • Continental Breakfast
8:00 a.m. – 5:00 p.m. ET • Name Badge Pick-up & Registration
8:00 a.m. – 9:00 a.m. ET • USICH Listening Session: Lessons from the Field to Inform Implementation of the New Federal Strategic Plan
USICH staff will host a listening session to hear from community leaders, organizations, and people with lived expertise about greatest challenges and hurdles they are facing within their communities in their local efforts to prevent and end homelessness. As USICH plans to roll out our new federal strategic plan to prevent and end homelessness, this information will inform implementation and prioritized actions. Participants will hear a high-level overview of what to expect in the Plan and will be asked questions focused on better understanding how the federal government can best support local efforts and strategies.
8:00 – 9:00 a.m. ET • Stella M Demos
9:15 – 10:30 a.m. ET • BREAKOUTS III
3.01 Implementing Shared Housing, Part One: The Systems Approach
Now more than ever, we should be creative in addressing the challenging housing market. One approach is to make shared housing a part of every community's strategy for ending homelessness. Learn how to challenge biases against making shared housing an option, and how to implement innovative ways to get buy-in from providers, landlords, and community leaders.
3.02 Building Capacity among BIPoC Providers in the Homelessness Response System
What does building capacity among providers of color look like in a homeless response system? How should systems leaders and funders support these efforts? This session will discuss steps for building capacity among providers of color, especially those that have been disproportionately excluded from resources. It will also explore centering BIPOC leadership and what commitment it will take from the field.
3.03 Transitioning from the VI-SPDAT: What's Next in Approaches to Assessment
Communities across the country have been phasing out their use of the VI-SPDAT. Change is not easy and previous pitfalls must be avoided, including the potential to perpetuate inequity. How can we implement approaches that are fair to all people experiencing homelessness (no matter their race or ethnicity)? And how can we ensure that new approaches are appropriately evaluated and are effective? This panel will describe efforts currently being developed that could inform the future of assessment tools.
3.04 Unsticking Your System: Creating an Effective, Efficient, and Equitable Response
Effectively ending homelessness requires that homeless response programs work toward a coordinated and collaborative system approach. This session will provide insight into the critical elements of an effective, efficient, and equitable systemic approach. It will also explore strategies to identify bottlenecks, increase system flow, and optimize data to inform the system's planning.
3.05 Are We Serving Unaccompanied Women Well? How Can We Do Better?
Women comprise a steadily rising share of the single adult homeless population. What does the data tell us about their needs and the adequacy of our programmatic and systemic responses? What reforms are needed across our systems to promote safety and positive outcomes for women with the longest histories of homelessness and instability? This session will examine the evidence and explore how the voices of women with lived experience can inform programmatic and system improvements.
3.06 Preventing Homelessness: Estimating the Population and Helping Before Help is Needed
A small setback could cause many households to cross the threshold into literal homelessness. There is a need to better understand individuals and families facing housing instability, including those who are doubled-up, and to identify who needs aid to avoid losing their housing and becoming homeless. This panel will discuss emerging research and model approaches on identifying and aiding these households in the timeliest manner.
3.07 Fully Embracing and Appreciating Employees with Lived Experience in the Homelessness System
Staff with lived experience of homelessness have an essential role in ensuring that housing and shelter programs meet the needs of their clients. However, many employees with lived experience are relegated to the role of peer support. In this workshop, panelists will discuss ways to utilize peers beyond the usual peer support model, reflecting the need for expanded roles for persons with lived experience in the provider community.
3.08 Demystifying Capitol Hill for Ambitious Activists
Federal advocacy is an essential component of any community's efforts to secure the resources they need to end homelessness. But getting started can be overwhelming. How do Congressional offices work? What is the best way to get meetings with lawmakers, and how should you prepare for them? Which lawmakers and committees are the most important to affordable housing, services and homelessness? And how do you make a lawmaker an impassioned advocate for the cause? Get practical advice and views you can use to become even better advocates.
10:45 – 11:45 a.m. ET • Plenary
Speakers include: Jeff Olivet, Executive Director, USICH – Chandra Crawford, Chief Equity Officer, National Alliance to End Homelessness – Adrianne Todman, Deputy Secretary, HUD
Panel discussion featuring Ann Oliva, CEO, National Alliance to End Homelessness, and Marc Dones, King County Regional Homelessness Authority, and Marvin Futrell III, Lived Experience Coalition and We Are In
Lunch will be served following the plenary presentations.
12:00 – 1:15 p.m. ET • Lunch
1:30 – 2:45 p.m. ET • BREAKOUTS IV
4.01 Implementing Shared Housing, Part Two: Strategies for Success
Shared housing is an underutilized tool in the work to end homelessness. In this session, learn practical strategies from communities on how to engage, maintain, match, and assist potential tenants. This session will also uplift other essential elements to maximize shared housing's effectiveness.
4.02 All Hands On Deck: Getting Staff on Board with Racial Equity Work
Embracing diversity, equity, and inclusion in your organizational values is a way to intentionally create space for positive outcomes. However, work discussions about racism, implicit bias, and lack of opportunities can be uncomfortable, especially considering the imbalance of White leadership in the field. Hear from leaders working to create equitable internal environments. Panelists will share their recommendations for implementing organizational assessments and addressing recommended improvements.
4.03 Using Housing Choice Vouchers to Solve the Hardest Homelessness Problems
In recent years, the Housing Choice Voucher program has become the largest source of funding for new PSH. This workshop will describe the basics of using vouchers for that purpose, specialty initiatives that make vouchers available, and "move on" strategies to allow normal turnover in the voucher program to indirectly fund PSH.
4.04 Creating a Culture of Diversion Across Your Community
Diversion can help individuals and families avoid entering shelter by working with them to identify safe alternative housing arrangements when they are at the "front door" of shelter but have not yet entered it. In this workshop, learn how communities have effectively embraced diversion strategies across their crisis response systems, created community buy-in for this approach, helped people avoid homelessness, and reduced inflow into the homelessness system.
4.05 Tribes & CoCs - Working Together?
This workshop will review the basics of how Tribal communities and CoCs can work together. Attendees will learn what meaningful progress has been made to integrate Tribes into the CoC process and what more needs to be done from both the Tribal and HUD perspectives. Attendees will also discover how, in exemplary jurisdictions, collaboration with Tribes is allowing CARES Act Emergency Solutions Grant funds to be used to address Tribal homelessness concerns.
4.06 Racial Disparities Data: Helpful Tools and Starting Down the Road to Change
Homeless systems are currently collecting various types of data that help in understanding their clients and system performance. In recent years, there have been increased efforts to organize that data to understand and identify challenges related to racial equity. This session will describe available tools and examples of ways communities are beginning to work towards the goal of equity.
4.07 Philanthropic Partnerships and Strategies for Systems Transformation
Implementing solutions to ending homelessness that are rooted in equity and justice requires true partnership and alignment of values. Though philanthropy's roots come from racialized capitalism and the exploitation of labor and resources from Black and Indigenous peoples, philanthropy still has a role to play to change the systems and policies that result in the disproportionate number of people of color experiencing homelessness. This session, organized by Funders Together to End Homelessness, will highlight funders from across the country who are working to partner with systems leaders and policymakers to stand up public-private partnerships, advocate for policies rooted in equity, and fund systems change. This session is geared toward systems leaders and thinkers, advocates, policymakers, and funders who are ready and willing to roll up their sleeves and build new partnerships that are built on deep trust and relationships.
4.08 HUD-VASH and SSVF: Big Changes Ahead?
The HUD-VASH (HUD-VA Supportive Housing) and SSVF (Supportive Services for Veteran Families) programs have been instrumental in cutting veteran homelessness in half over the last decade. Two changes from the Department of Veterans Affairs (VA) may be on the horizon: expanding HUD-VASH eligibility and doubling the SSVF budget to provide more shallow subsidies. Find out from senior VA officials what these changes might mean for your local homelessness system and learn whether Congress is likely to go along with VA's plans.
3:00 – 4:15 p.m. ET • BREAKOUTS V
5.01 Emerging Principles for Encampment Resolution & Their Effectiveness
Across the country, communities are closing down encampments in a variety of ways, some positive and some negative. What they all have in common is the need to balance demands for immediate action with a lack of permanent housing solutions – and often, even of temporary accommodation. This session will provide an overview of emerging principles from communities that are seeing success, and how to apply them in your area.
5.02 Falling Faster: Why Are Black People Returning to Homelessness More Frequently Than Whites?
Some Continuums of Care that have analyzed their Homeless Management Information System data for racial disparities have found a common trend: Black people are more likely to return to homelessness than White people. Hear from local leaders working to understand why this disparity exists and how to improve retention rates in permanent housing.
5.04 From Unsheltered to Housed, Part One: Incorporating Effective Street Outreach
To meet the needs of individuals who are unsheltered, communities must act with intentionality and coordination. In this session, attendees will hear what impactful and effective street outreach is, and its role in ensuring individuals experiencing unsheltered homelessness can have a place to call home. Providers will learn how to best engage people experiencing unsheltered homelessness, their vital roles in the community, and more.
5.05 Creative Strategies to End Rural Homelessness
Working in a rural community comes with unique challenges and calls for unique solutions. Join this interactive session to learn about creative solutions for serving people experiencing homelessness in rural areas. The session will cover person-centered strategies, from outreach and engagement to shelter and housing options, in small towns and rural spaces.
5.06 Supporting Older Adults to Exit Homelessness: The Services
What new service partnerships and strategies are localities developing to assist older adults who are experiencing homelessness and require more support and care than shelter and housing programs typically provide? Explore the role that healthcare system resources, such as Home and Community-Based Services, and programs from Area Agencies on Aging, can play in helping older adults achieve safety and housing.
5.07 Critical Partnerships in the Face of Natural and Public Health Disasters
Not only is homelessness impacted by public health disasters like COVID; it is also increasingly affected by natural disasters attributable to climate change, including hurricanes, fires and droughts. To respond, partnerships between the homelessness system and emergency management agencies are critical. This session will provide an overview of different types of disasters and how they impact people experiencing homelessness and those who support them. It will cover who needs to be at the table in planning for and responding to disasters, and how HUD's Office of Special Needs Assistance Programs can support local communities in their efforts.
5.08 Preventing and Ending Youth Homelessness: Progress, Challenges, and Opportunities
Responses to youth homelessness are rapidly evolving with the input of youth who are making their voices heard by practitioners, homeless service system leaders, policymakers, and funders. This session will examine lessons from localities implementing the Youth Homelessness Demonstration Program and utilizing the Foster Youth to Independence vouchers. Speakers will also explore innovations that emerged during the COVID-19 pandemic and that can now be advanced, and how to overcome challenges in ending youth homelessness.
4:30 – 5:30 p.m. ET • Listening Session: Transitioning from the VI-SPDAT: What is Your CoC Doing?
The homeless services field is transitioning away from the VI-SPDAT. The path towards identifying replacements is not fully clear and, for some CoCs, this process may be a little stressful. Let's talk about it. This session invites you to share your CoCs plans and ideas for transitioning from the VI-SPDAT (or otherwise reconsidering how your system assesses client vulnerability). It is also an opportunity to hear and learn from other CoCs.
By invitation – please contact jpagaduan@naeh.org for more information on participating in this session.
5:00 – 7:00 p.m. ET • HUD SNAPS Q&A
Wednesday, July 27, 2022
7:00 – 8:00 a.m. ET • Continental Breakfast
8:00 a.m. – 1:30 p.m. ET • Name Badge Pick-up
8:15 – 9:30 a.m. ET • BREAKOUTS VI
6.01 How to Talk About Housing First
We know that the solution to homelessness is housing, but an anti-Housing-First narrative is gaining ground. We need to proactively shape the conversation about how to end homelessness, so that we can collaborate with potential partners on life-saving solutions. In this session, we'll be exploring the power of narratives about Housing First and workshopping ways to talk effectively about it. This session is for anyone who wants to be a positive influence, whether you're in a position to lead in your CoC, talk to the media, call your lawmaker, attend town meetings, or just talk with your neighbors.
6.02 Advancing Equitable Outcomes: How Fair Housing Can Protect People Experiencing Homelessness Against Discrimination
People of color and people with disabilities are particularly susceptible to negative impacts from the current affordable housing crisis. They also far too often encounter discrimination when seeking housing. It is important to expand opportunities for vulnerable people, and to protect the rights guaranteed under the Fair Housing Act. This session will discuss systemic barriers to housing and why Fair Housing matters to ending homelessness.
6.03 From Unsheltered to Housed, Part Two: Ensuring Success Once Housing is Matched
Maximizing the number of people housed and minimizing the amount of time spent unsheltered is essential to saving lives and reducing trauma. One-time funding through recent COVID-19 relief bills, combined with increased appropriations for homeless assistance grants, has expanded housing opportunities. This provider-focused session will review strategies that are proven to get people off the streets and into housing.
6.04 Using Progressive Engagement to Allocate Housing Resources
Utilizing a Progressive Engagement approach is often understood as a strategy to maximize a community's limited resources while at the same time tailoring homelessness assistance to each household's unique strengths, needs and changing circumstances. Sounds reasonable, right? But what are communities to do when it's clear that households need more? How do communities balance the reality of limited resources with the growing need identified in every community and what's just and equitable, especially for those who are marginalized? The format of this session is one of discussion and not a presentation of answers or "how to's." Through dialogue and sharing, join with others to discuss how communities are gaining a greater understanding of the issue and ways to respond.
6.05 Supporting Older Adults to Exit Homelessness: The Housing
Older adults experiencing homelessness are eligible for certain federally funded housing programs targeted to the elderly (ex.: Section 202 Supported Housing for the Elderly Program). These programs can be an important resource for housing unsheltered and sheltered older adults. Participants will learn about the different programs, and how they can be accessed to reduce homelessness among this vulnerable population.
6.06 Direct Cash Transfers: How Do They Work?
Prior to the pandemic, numerous cash transfer models were tested, including for youth and families experiencing homelessness. During the pandemic, child tax credits and other cash transfers appear to have reduced entries to homelessness. What are cash transfers and how do they work to reduce homelessness? This session will explore cash transfer models, their impact, and their potential as a future method of ending homelessness.
6.07 Master Leasing: Opportunities and Challenges
To address today's challenging housing market, communities are expanding their menu of housing options, including master leasing. This program model pertains to a third-party leasing strategy to create long-term contracts to lease housing units from a property owner. In different models, the leasing agency takes on various responsibilities, including a multitude of financial costs and subleasing to tenants. This session will explain the difference between the traditional master leasing model and master rent subsidy agreements. Communities will also share each approach's benefits and limitations and offer recommendations based on their experiences.
6.08 Improving Programmatic and System Responses for Survivors of Domestic Violence
The COVID-19 pandemic disrupted how providers connect with, and support, survivors of domestic violence. Will programs revert to how they previously delivered services, or will new innovations take hold and represent new standards of practice? Explore innovations in helping survivors safely sustain or regain housing; lessons in improving cross-system coordination; and strategies to ensure survivors receive trauma-informed, culturally responsive services that promote their safety and wellbeing. Discuss how to continue these improvements.
9:45 – 11:00 a.m. ET • BREAKOUTS VII
7.01 Confronting and Reversing the Criminalization of Homelessness
The increased visibility of homelessness during the COVID-19 pandemic has brought a backlash in many communities, leading to increased harassment and the forced removal of encampments. Homelessness should not be considered a crime. This session will examine recent legal trends targeting people experiencing homelessness, the impact of criminalization on services and outreach, and how to work with public officials on constructive alternatives.
7.02 Click Submit: Exploring What's New In Data
Gwen Beebe and Shercole King are on a mission—fostering a love for data. Through their podcast (Click Submit), they are creating an engaging space for discussing such topics as advancing racial and gender equity, improving data quality, supporting the data workforce, and even fun with memes. This interactive session will offer a window into the podcast while providing the audience with information about hot topics in the world of homelessness data.
7.03 Partnering with Public Housing Authorities: Lessons Learned from EHVs
The allocation of Emergency Housing Vouchers not only provided thousands of people experiencing homelessness with housing, but also developed and/or strengthened relationships and collaboration between Public Housing Authorities, Continuums of Care, and local nonprofit organizations. This discussion will focus on key elements of these partnerships and what lessons can be taken forward as we strive to get people experiencing homelessness into homes.
7.04 Trauma-Informed Care: It Is All About Connection
Trauma-informed care emphasizes understanding, compassion, and recognition of the effects of all types of trauma, including that associated with historical racism faced by BIPOC (Black, Indigenous, and People of Color) households. This workshop will explore how providers can better understand the trauma of homelessness and provide trauma-informed care in all interventions. Content of this session will emphasize the human trauma-informed connections that build resiliency and support proactive recovery and stability for persons experiencing homelessness.
7.05 Tiny Homes: What Distinguishes a Tiny Home from Permanent and Interim Housing and What Do Successful Models of Each Entail?
Across the country, the concept of Tiny Homes is being lauded as a successful strategy to end homelessness, despite various definitions, designs, purposes, and outcomes of the intervention. Some communities utilize Tiny Homes as permanent housing, others as emergency shelter. This session will provide an overview of the Alliance's perspective on Tiny Homes and key considerations when implementing this intervention. Attendees will also hear from communities that employ promising Tiny Home strategies for both permanent housing and emergency shelter.
7.06 Recruiting, Retaining, and Empowering Staff in 2022
Organizations are struggling with high turnover and recruitment due to low pay, burnout, and other factors related to the pandemic. Attend this interactive session to hear how providers have found success with hiring, retaining, and supporting staff in these challenging times.
7.07 Boosting Voter Participation in an Election Year
All too often, those with the most at stake in decisions about policy priorities get the least amount of representation. This session will cover the basics of nonpartisan voter education – registering people experiencing homelessness to vote, getting new voters talking about issues that affect their lives, and encouraging them to participate on Election Day.
11:15 a.m. – 12:15 p.m. ET • Closing Plenary
Speakers include: Ambassador Susan Rice, Director, White House Domestic Policy Council – Amanda Andere, CEO, Funders Together to End Homelessness
Lunch will be served following the plenary presentations.
12:30 – 1:45 p.m. ET • Lunch